Bust the Budget rallies draw thousands around Australia | World news | theguardian.com
Bust the Budget rallies draw thousands around Australia
Rally-goers protest budget measures, including cuts to health, education and the ABC as well as changes to jobless benefits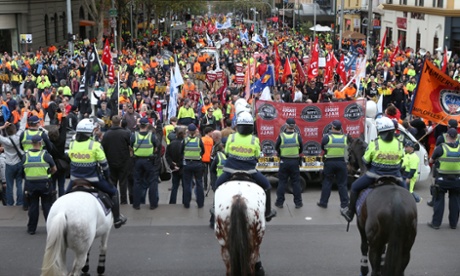 Thousands turned out around the country on Sunday to register their outrage at the Abbott government's budget.
The
protest – billed as Bust the Budget – saw more than 6,000 people show
up in Sydney's CBD and up to 30,000 people brave the cold weather in
Melbourne.
In Sydney, crowds began forming shortly after
midday at the Town Hall. Rally-goers, waving trade union flags and
budget-protest placards converged on St Andrews square on George Street.
Greens
leader Christine Milne told reporters on the scene the protest was
borne out of frustration against planned federal cuts to health and
welfare spending.
"[Tony Abbott] is making life harder for people," Milne said.
"He's making life a misery for people who are unemployed and searching for work.
The Greens leader said incoming senators need to listen to the community and block budget measures.
"You need to join with us in busting the budget," she said.
"Tony
Abbott is a crash or crash through prime minister. We have to make sure
that in response to this budget we make sure he crashes."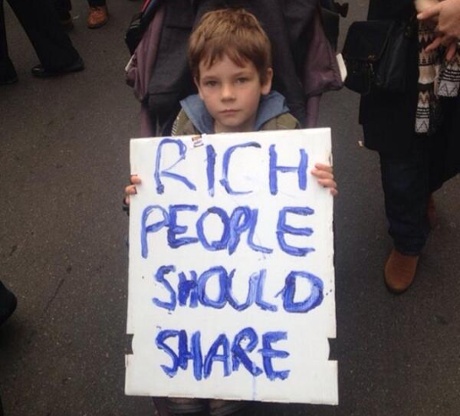 Several of the government's budget measures, including the $7 GP
visit co-payment, changes to jobless benefits, a higher pension age and
deregulation of university fees have been criticised as unfair.
Milne said the Greens will not support the GP co-payment scheme.
Treasurer
Joe Hockey has said the criticism has "drifted to the 1970s class
warfare lines" and his budget was about equal opportunity, not equality
of outcome.
"Our duty is to help Australians to get to the
starting line, while accepting that some will run faster than others,"
he said in June.
Unions NSW secretary said there had not been such
continuous outrage against a budget in 30 years. He urged incoming
senators to vote the budget down.
Similar rallies took place in cities across the country on Sunday.
Thousands
braved a cold and dreary Melbourne afternoon to gather at the Queen
Victoria Gardens and protest the federal government's budget.
Union
members, lawyers, nurses, a smattering of families and an unusual
number of dogs bolstered the marchers' numbers, which the most
optimistic organisers estimated at about 30,000.
Protesters
were handed placards with space left deliberately blank so they could
fill in their own grievances. "What example are we setting? Australia
used to mean a fair go for all, now it's just for the few", read one.
"Australia rejects fascism", another.
What it lacked in a
singular message the rally made up for in colour: the pink of Peppa Pig
holding a sign that that read, "Save Me From Tony's Abbottoir", the
white of two newlyweds
who found themselves unexpectedly in the parade's path, and a rainbow
sea of flags representing the acronymical army of unions opposed to the
federal government's tough budget.
Among the demonstrators was Liana Buchanan, the executive officers
of the Federation of Community Legal Centres. "In budget week we learnt
that first of all about 60 community legal centres will have funding
cuts from next year," she said.
"Given what we know, that
community legal centres are the last option to get legal help for
[people] who have no other way of getting help for very serious legal
issues, we're very concerned".
Buchanan said she was impressed
by "the number of people, the vibrancy, the passion" of the march,
which ended at the steps of parliament house in Spring Street.
Protestors were met there by a line of navy-blue clad police, but no
arrests or incidents were recorded.
A three-metre Tony Abbott
puppet stood over protesters at an anti-budget rally in Canberra, with
the prime minister the focus of anger at cuts to health, education and
the ABC.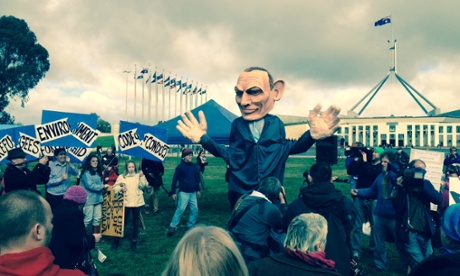 A few hundred people converged on the lawns in front of Parliament House.
The
larger-than-life prime minister, with smoke emitting from his trousers,
was greeted by protesters chanting "One term Tony" and "Liar, Liar,
Pants on Fire".
"We may have to call the fire brigade to put his arse out," one protester yelled.